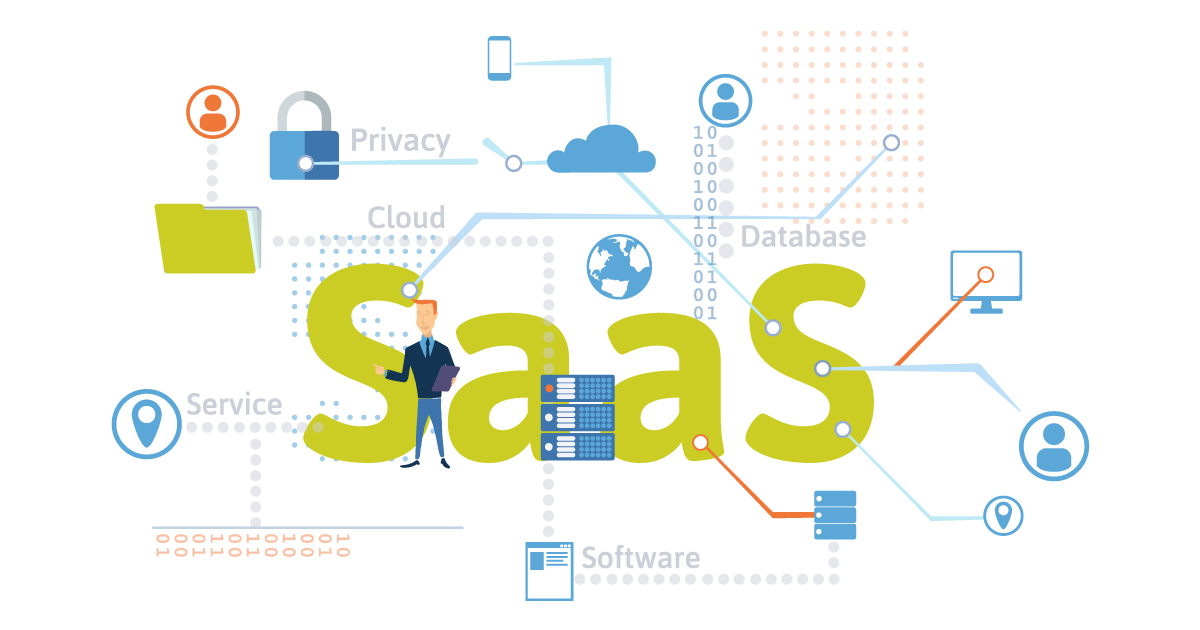 SAAS (Software as a service) permits users to use and connect cloud-based applications over the internet. Basically, it provides a complete software solution that you purchase from a cloud service provider.
Some of the common examples are office tools, email, and calendaring. Furthermore, in this guide, we have explained SaaS, its entire work, and other related factors.
What is SaaS?
SaaS stands for Software as a service. It's a method to deliver apps over the internet like a service. Rather than maintaining or installing Software, one simply accesses them over the internet. And it helps to free clients from complicated hardware and complex software management.
Generally, SaaS apps are known as hosted Software, web-based Software, and on-demand Software. Well, SaaS applications operate on a SaaS provider's servers. And the provider used to manage access to the apps, consisting of performance, security, and availability.
What does SaaS look like?
There is no need to buy, maintain, update, or install Software or hardware with SaaS. So as a client, there is little to view till you start using the Software.
Check out the SaaS services features:
⦁ Known web-based interfaces
It is built on the consumer website that they already know. It also helps to take up rates and boost adoption.
⦁ Multi-tenancy cloud architecture
All the apps and users share a centrally maintained common infrastructure. If we talk about security, every user gets high-security details in your package.
⦁ Feature delivery
Updates come weekly and sometimes monthly, but users don't need to support or maintain the Software's legacy versions.
⦁ Easy access
Through a networked device, it's easy to access data or files and keep them in sync.
⦁ Open APIs and integration protocols
It enables the development of 'mash-ups' that consist of presentation, functionality, and data from many services.
⦁ Social functions
It permits people in different locations and teams to work co-operatively with each other.
Key Characteristics of SaaS
Let's take an example; you can understand the SaaS model better by imagining a bank that secures the privacy of every customer when offering services that are secure and reliable. The bank customer uses the same technology and financial systems without the tension of hackers accessing their data.
Same as SaaS provides a guarantee of secure services. Now, have a look over some essential characteristics of Saas.
Customized
The customers can customize apps that are suitable for their business processes. In a way that SaaS is architected, the customizations are different for every user or company preserved by upgrades. It states that SaaS providers can easily make often upgrades without risk and with low adoption costs.
SaaS Trends
Nowadays, companies are dependent on developing SIPs (SaaS integration platforms) to produce more SaaS apps.
Multitenant Architecture
This implies that all the users use a common and single code base and infrastructure maintained centrally. As the SaaS vendor clients use the same code base and infrastructure, vendors get a chance to innovate quickly and save time.
Better Access
SaaS provides improved access to data from a networked device by making it simple to monitor data use, manage privileges, and ensure that all users see the same data.
What is the need for SaaS for business?
Many organizations rely on SaaS, so it's more than a trending word. SaaS is gaining attraction day by day, and companies embrace the best on-premise Software and hardware development.
As you know, the apps are hosted remotely through a service provider or vendor and made available to clients over the globe. With the help of SaaS, the service provider allows consumers to access it by a supported device. A monthly or annual service fee is needed for the Software. Further, it depends on the rendered service.
Many organizations are opting for SaaS because of its leverages to a business.
Scalable
Basically, the SaaS solutions stay in a cloud environment that makes them scalable so that any business can use them as per their specific requirements. Also, it offers the flexibility of integrating with other SaaS. You need to turn on the additional set of components, select the delivery model and then change it as per your requirements.
Secured
For any business, data security is a valuable asset of a company or an industry. No doubt, SaaS providers invest their money in expertise, technology, backups, maintenance, and security. It is well-equipped with the tools and expertise to properly implement appropriate security systems.
Fast speed
You might know that SaaS is configured and pre-installed. It's easy to provide the server on the cloud that deploys faster. In a couple of hours, the developers make apps ready to use. It assists in bringing down the installation efforts. And the users can test the functionality of the Software. Also, it allows a smooth migration between various versions.
Highly personalized
The SaaS applications could be integrated and personalized with Software such as; Dropbox, Gmail, or other required Software. It makes users work on more than one module or document.
Affordable
SaaS technology is considered the best and most cost-effective investment for any business. Further, it reduces the ongoing maintenance cost and the upfront cost of installation. SaaS is considered a boon for small businesses because it offers access to high-powered and less expensive Software with an appropriate subscription-based method.
Conclusion
Undoubtedly, cloud computing is the future!
The SaaS is the best and the most integral part of an organization. It is helpful in achieving sustainable and increased revenues. Moreover, the cloud approach can help organizations to create end-to-end integrated solutions.
The SaaS is used as high-performance computing, which will assist with a wide range of business uses. And SaaS will be able to address critical challenges for any business, like which cross-selling practices work best for a business.
We hope this article has helped you to understand the concept of SaaS and its important features.