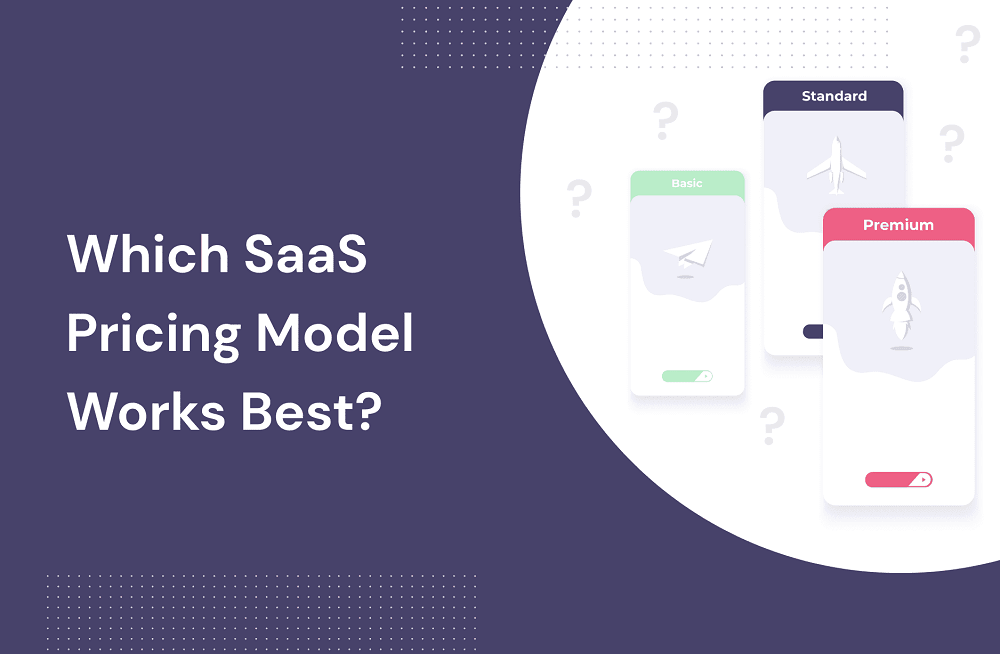 There are numerous pricing models available for SaaS startups to choose from yet still a company barely spends a few hours deciding their pricing model. So, to simplify the pricing models and make your choice easy, we explored and researched all the pricing models to give you this compact guide that will provide you with everything you want to know.
There are three vital parts of a profitable SaaS pricing strategy which are as follows:
The pricing model which will balance the value and revenue.
The pricing strategy that helps you achieve your growth goals.
The psychological pricing tactics that you will use to fine-tune your price.
SaaS Pricing Models
Finding the right pricing model means establishing the right balance between revenue and value, ultimately making or breaking your business. If you undercharge, your business will go down and it will hamper the overall growth of the company. If you overcharge, customers will turn to other vendors. We have explained all the pricing models in detail for you to understand and choose wisely.
1. Flat Rate Pricing
This is the simplest of all pricing models where you offer a single product with a single set of features and a single price. The flat rate pricing model is very similar to the software licensing model which was used before cloud applications came into existence.
One of the famous examples of flat rate pricing is Buffer's Awesome plan. A monthly billing price of $300 grants access to all the features of the company's products.
Pros of Flat Rate Pricing:
Easy to sell- Since there is just one product that is offered at a fixed price, all of the sales and marketing are focused on it which helps garner bigger crowds for the sale.
Easy to communicate- Pricing models generally get very complicated, making the decision to pick one model tough, but flat rate pricing makes this process easier with a straightforward pricing technique.
Cons of Flat Rate Pricing:
Extraction of value from different users becomes difficult- If your target is SMb and you are using an SMB-friendly pricing strategy, then you will go in loss if an enterprise company decided to adopt your tool.
One shot at securing customers- There is no place for negotiation as there is a single product with a single price. The customer will either buy it or not, so there is only one shot at selling your product to a particular customer.
2. Usage Based Pricing
This model is often referred to as the Pay As You Go model because the rate of the product is directly proportional to the usability of the product. This model is the most common with infrastructure and platform-related software companies like Amazon Web Services. Companies like these charge on the basis of the number of API requests, transactions made and data used.
Usage based pricing is really handy for companies with recurring billing platforms like Chargify. This helps ensure that price inflation happens only when customers can afford it.
Pros of Usage Based Pricing:
Prices scale alongside usage- With the increasing demand for the product, the pricing goes up which helps generate more revenue as well since the customers can afford it.
Reduces usage barrier- There is not a lot of investment required for this and even small startups can adopt this method which makes it all the more convenient.
Cons of Usage Based Pricing:
Tough to predict revenue- Since the billing varies every month depending on the number of users, it is tough to estimate revenue or forecast revenue.
Tough to predict customer costs- There are fluctuations in the bill every month, so naturally it becomes tough to estimate customer costs.
3. Tiered Pricing Strategy
In mainstream SaaS, flat rate and usage based pricing are not very common. Most mainstream companies opt tiered pricing strategy because it allows the company to offer various combinations with different features and products.
One of the biggest examples of a tiered pricing strategy is HubSpot where each tier is custom designed according to the needs of the customer that will fall in that tier.
Pros of Tiered Pricing:
Appeal to multiple personas- This gives you the flexibility to target customers from various segments with different packages.
Generate maximum revenue- By offering different prices to multiple customers, your revenue generated is also very high.
Clear upselling route- When the customer wants to upgrade, they can just opt for a package with higher value and more features keeping them dedicated to your product.
Cons of Tiered Pricing:
Potentially confusing- Deciding between the various tiers that are being offered can be confusing and sometimes overwhelms the customers.
Heavy user risk- If the users of the top tier exceed the allocated service, then you will have no alternative for collecting extra revenue for compensation. When you appeal to a wide range of people with multiple packages, it can be tough to fulfill their every need.
4. Per User Pricing
If you have done the surface research for the pricing models, then Per User pricing seems like the go-to pricing model. This is the most popular pricing model, mainly because of its simplicity.
In simple terms, a single user will pay a monthly price, add another user and the price will double; add a third user, and the price will triple, and so on. This is not just convenient for the company but for the customers as well because they can understand the system of a monthly subscription easily.
Pros of Per User Pricing:
Simplicity- Per user pricing model is very direct and easy for customers. It also makes the calculation of monthly revenue very easy.
Revenue scales with adoption- If the number of users doubles in a month, then so will the revenue. You can easily predict the revenue generation for each month.
Cons of Per User Pricing:
Limits adoption- When you are charging per person, it gives an incentive to cheat since a single login can be used by multiple users.
You are also providing a reason to avoid adding new users to the tool.
Makes it easy to churn- Limiting adoption makes it likelier for customers to abandon your service and 10 people are more likely to churn than a hundred.
Does not reflect the real value.
5. Per Active User Pricing
This is a variant of the per user pricing model. A lot of SaaS companies encourage annual billing cycles which means that a new customer will be paying for hundreds of employees without any guarantee of the employees using that software. Per active user tackles this problem by encouraging the customers to sign up with maximum users and only the active users getting billed for it.
Slack is a famous example of a per active user pricing model. No matter how many users you are paying for, you will be billed only for the active customers.
Pros of Per Active User Pricing:
You only have to pay for the active customers.
Risk of widespread adoption is reduced- If your customer is an enterprise company, then you would want to encourage as much
adoption as possible. This pricing model makes it easier for companies to take that risk.
Cons of Per Active User Pricing:
This model does not work well for SMBsas it does not offer many incentives to generate extra cash.
6. Per Feature Pricing
This pricing model separates out the different pricing tiers based on the functionality of each model where higher-priced packages offer more features. Evernote's basic is a popular example of this pricing model.
Pros of Per Feature Pricing:
Strong Incentive to upgrade- There is a clear and obvious incentives for upgrading which is more functionality.
Compensation for delivery-heavy features- This pricing model allows you to compensate appropriately for the disproportionate amount
of resources by putting the best features in top-tier packages.
Cons of Per Feature Pricing:
Difficulty in choosing- It is tough to get the right features in the right tier and decide on which feature the customer will want the most.
Leaves a poor impression- The customer is left feeling resentful in the end because they can not unlock full functionality even after paying such a high price.
7. Freemium Business Model
With the high-profile success stories of many SaaS businesses like Slack and Dropbox, a lot of SaaS companies use freemium pricing where they offer a free-to-use product with supplement paid features.
Typically, it is a part of the tiered pricing model but it is more popular because of its flexibility. A great example of a freemium pricing model would be Drift. The model allows small companies to get addicted to the product till they feel the need to upgrade and then start paying you.
Pros of Freemium Pricing:
Viral potential- With such low barriers, it offers a wide area for growth and rapid growth too.
Easy adoption- One of the biggest challenges of a SaaS business is getting initial adoption and this model greatly supports that.
Cons of Freemium Pricing:
Revenue killer- Free users keep on using the services and do not generate revenue for your company. This means that your paid users have to generate more revenue to compensate for them.
Easier to churn on a free package- The free-to-use model makes adoption easy but at the same time it increases the churn rate too.
Conclusion
Every company is different, with different target markets and different goals, so the pricing strategy has to be chosen accordingly. Companies often do not like to waste their time on picking a pricing strategy but this is just as crucial as any other process because your revenue generation directly depends on the choice you make. So, choose wisely!