It takes a small fraction of a second (~ 0.05 s) for a visitor to form an opinion of your website. Most visitors stick for around less than 15 seconds. This means you essentially have less than 15 seconds to generate interest with your website. To improve website design, it's crucial to know what works on your website and what doesn't. Say if your homepage is overloaded with information, your visitors are as good as gone. Hick's law is a popular theory referenced in terms of web design. It describes the time it takes for a person to make a decision as a result of the possible choices he or she has – increasing the number of choices will increase the decision time.

A well-designed website is more likely to present its message clearly leading to better usability and ultimately better conversion rates.
What should you do? It's simple – Use your website data because data knows better. Google Analytics is a powerful tool that lets you collect data about your website. Analyze this data to make decisions based on what it's telling you and finally implement the changes. Improve website design by taking into account the following elements at all times.
What's The Objective of Your Website?
Your website objective depends on the type of business you have. Figure out the one reason you have a website. Are you selling a product? Are you finding new clients? Once you know that, let your visitors quickly know what your website is all about. Keep the content short and welcoming on the homepage.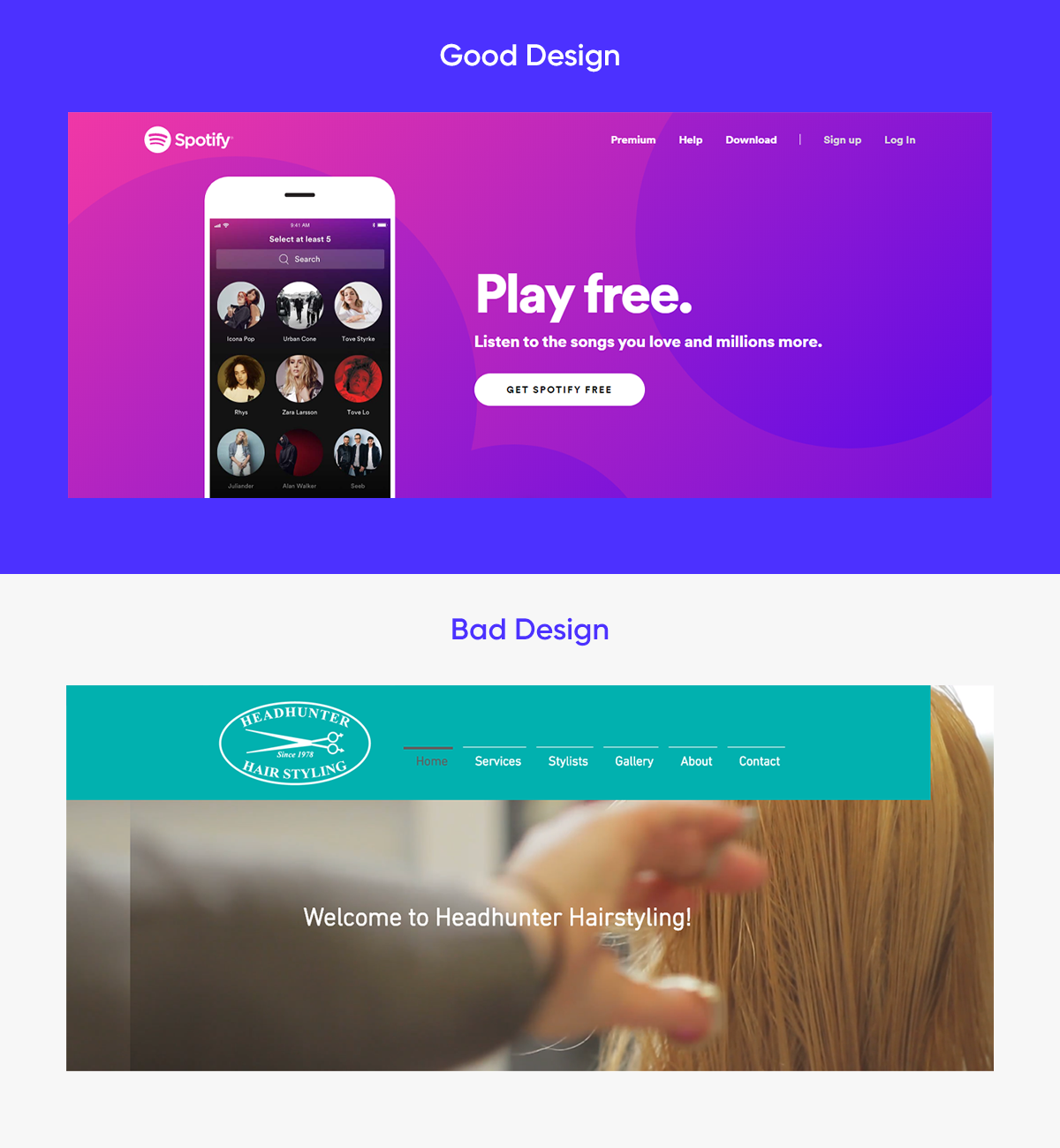 Consider Data From: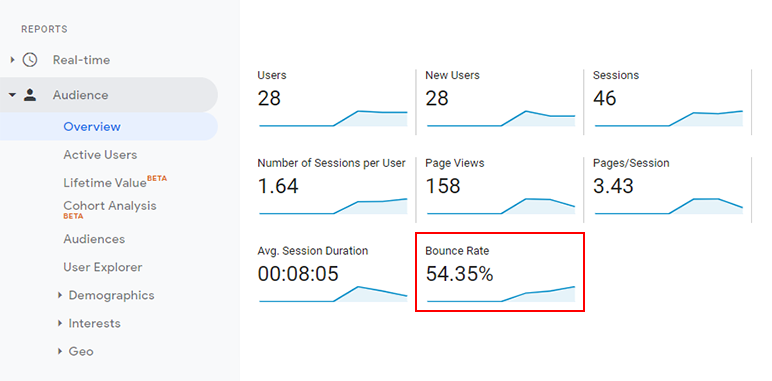 Bounce rate is a metric that gives you an idea about the first impression your site is making. It's basically the percentage of users who 'bounce' away without clicking on another link in the page. Find the metric under Google Analytics by navigating to Audience > Overview. If your Google Analytics data is showing a bounce rate of over 60%, that may be concerning. A high bounce rate indicates your site is poorly constructed. The messaging is not clear enough or the design is confusing or maybe the page wasn't loading fast enough. The aim is to push the bounce rate lower and lower.
Do People Love Your Content?
Think of the content from the user's point of view. Users come to your website to find information, ask questions and complete tasks. Research your audience, keep in mind their level of expertise and what they want to know. Then think about the best way to organize content on your page. Put the most important things first, break information into paragraphs (one idea per paragraph), transform long paragraphs into lists, etc. Create a relationship between each piece. Declutter your site from muddled content and stock-ish images.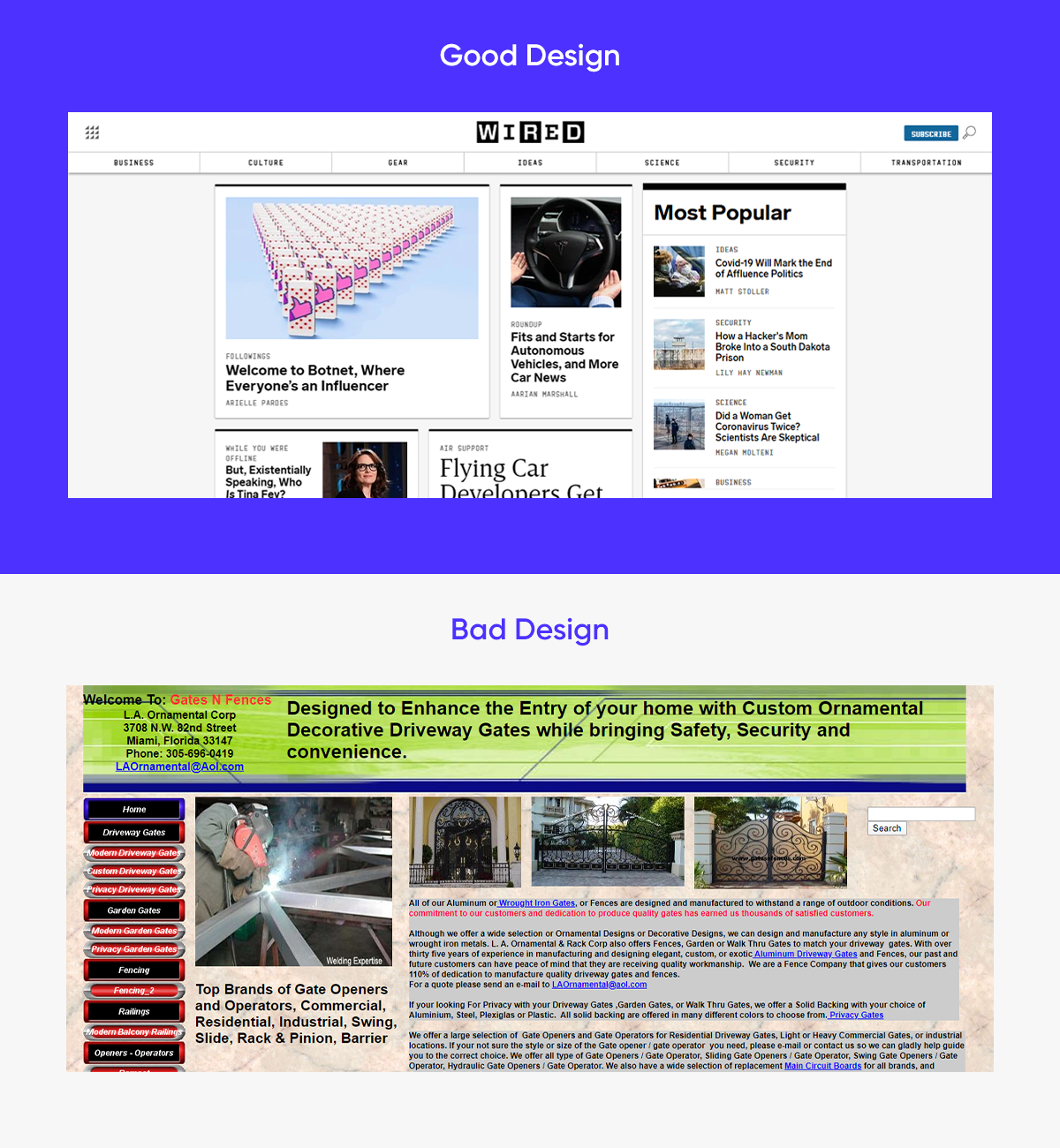 Consider Data From: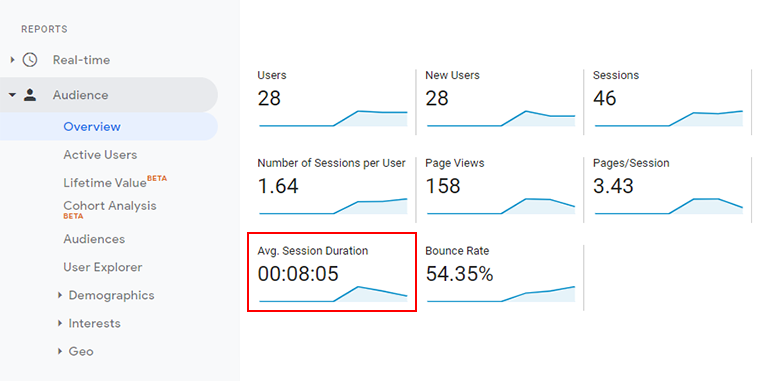 Average time on page is a metric that measures the average time visitors spent on a specific page of your website. Find it under Google Analytics by navigating to Behaviour > Site content > All pages. A reasonable average time on page is considered to be somewhere between 2 – 3 minutes. Perform target audience analysis using this Alexa tool. Engage your audience in the content they want to see.
Is Your Website Easy to Navigate?
Website navigation can break or make a user's experience. Once they have landed on your website, you don't want to leave them confused and wondering what to do next. Good navigation creates a positive experience for your users and encourages them to visit again. Even though the navigation style may vary depending on your website type, the basics remain the same. Prioritize your pages, label menus clearly, add drop-down menus, ensure visitors can go to any page from any page. Keeping the website menu consistent across pages will also help you improve website design and avoid confusions. Add a search bar if necessary.
Easier Navigation —> Faster Engagement —> Higher Conversions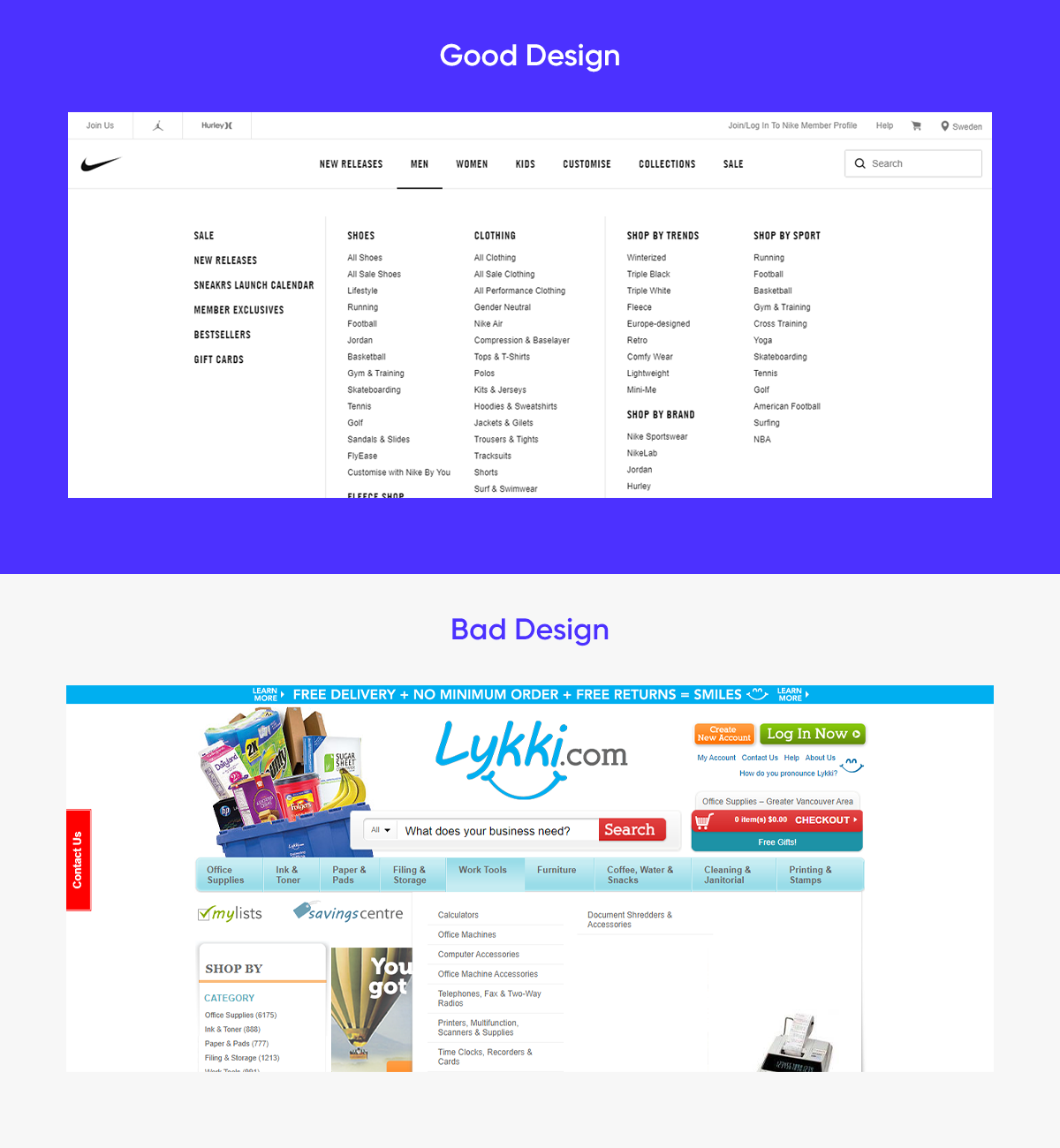 Consider Data From:

Navigation Summary is a metric that will show you how users flow between your pages. Find it under Google Analytics by navigating to Behaviour > Site content > All pages. You can use this data to see which pages are promoting good navigation by facilitating traffic and which pages discourage users from going any further.
Do You Care About The Visual Appeal?
Human beings process visuals 60,000 times faster than text. Having a website that just gives out the information in a plain and simple manner won't cut it. It's the visual appeal that contributes to the success of your website. You need to take into consideration the site's layout, colours, typography, images and animations, etc. It's recommended to use up to a maximum of five colours in the same color family. Bold and bright colours can be used for call to action buttons. Sans serif fonts are easier to read and optimal for body text. If your website is targeting an older audience, using large font sizes make more sense.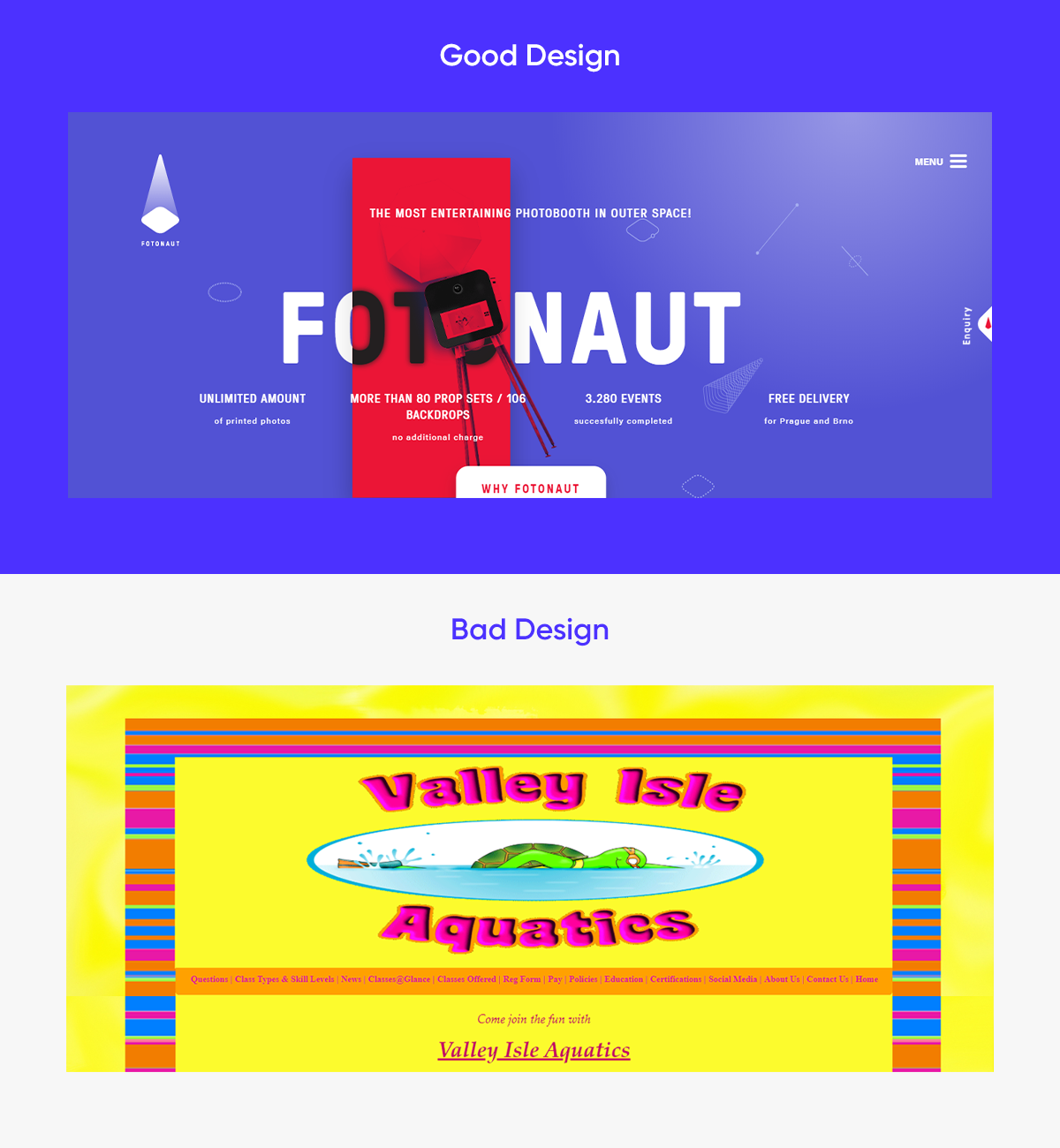 Consider Data From:
A/B testing offers an easy way to compare different design options for a website. It's an experiment conducted to check which variant gets a better response from a small group of people. For example, you can test two page designs each with, say a different colour scheme or font size to see which one receives more clicks or more on-page time. Multivariate testing can be used if you want to change multiple elements on a page to see which combination performs better.
Final Word
These are a few top metrics you should consider to improve website design and create success for your business. Numbers and facts don't lie. Using the analytics data, you will be able to create a design that converts more. It's only a matter of how many variables you want to test and how deep you want to delve into it.
Check out this web design guide from Toptal which delves deeper into the website design process and talks about the different web design disciplines and roles a web designer fills.
Redesign Your Website For More Conversions